Greetings friends!
We launched this crowd-funding campaign in order to raise enough funds to shoot two video clips, which we had originally planned to do at the beginning of this year after the release of our new album "Siberian Heathen Horde".
But as you know, after the global pandemic began, all concerts were canceled or postponed, and along with that, our source of funding our band's projects has disappeared. Despite the fact that we cannot play concerts and must sit at home, we do not intend to stop our creative process. Instead, we have been doing everything we can by ourselves, and are actively working on a new album, DVD, and much more!
.Now we invite you, our fans and friends, to participate in the creation of something completely new and interesting. In return for your support, we have prepared for you some new and very special merchandise, ranging from regular CDs, T-shirts, and hoodies, all the way up to some very exclusive, limited boxed-sets featuring Welicoruss' entire discography, a DVD, pendant, coffee, tea, and mead from us, but most importantly, we are offering opportunities to participate in the filming of these upcoming videos, a personal concert from Welicoruss at your home, drum-lessons from Ilya, guitar lessons from Tom  and more!
How much you are willing to contribute in order to support us will directly determine how much more interesting and high-quality we can make these videos, what kinds of people we can involve in this process, how good the special effects will be, and so on.  A detailed description of these new video clips, as well as full explanations of our budget and details about what you will get in return for each level of funding is located directly beneath this video.
Do not forget, even if you are not able to support us financially, we will still be very grateful to you if you'd just post this video across all your social networks. This will help us a lot in the end! And as always, we are eternally grateful for your love and support!

Main idea of the first video "Metaphysical" is dedicated to the "out-of-body" experience of the main character, the description of his feelings and fears. Video, however, like song itself, is deeply philosophical and it will show allegorically a lot of thoughts and ideas about human world, what stands behind main global ideas. The main action will take place in a huge dark space, and especially for this video, we will invite Rob Carson from Swiss band Xaon.
You can listen to this song here.
Second Video "Frostbounded" describes the suffering of a man trapped in ice, far on the North. Life leaves his body and he slowly feels like he is dying and passing into another World. During this whole process, he sees many visions, hallucinations, he sees an eagle flying in the sky, creating a surreal atmosphere of freedom literally a few steps away, but impossibility to do that because of  bounding in ice. Shooting is planned to be done in the mountains and in the studio as well.
You can listen to this song here.

To implement our plans, we need to raise 12,000 euros, which will later be used to cover the following expenses: commission of IndieGoGo platform & bank transaction, production & shipping of merchandise, rent of location, equipment and lights, video production, stylist and make-up maker, producing of costumes and clothing for filming, transportation costs (one of the videos will be filmed far from Prague), post-production, promotion on YouTube and other platforms. It's a HUGE amount of money indeed, but professional filming doesn't come cheap! We already had same experience in past and we realise the costs for production, besides, most of funds will go fo production of merchandise and advertising. We do not have financial support from a label, some kind of investors, sponsors, we did and do everything ourselves, relying on our own strength.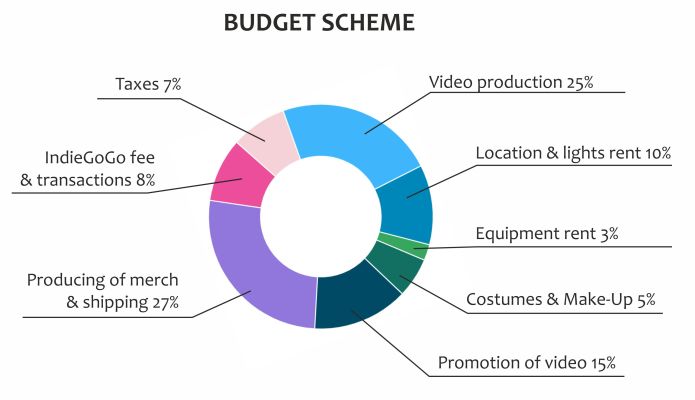 Only during this campaign you can get a really interesting new merch:
– digital and physical discography, vynils,
– pendant,  bottle opener with the band's symbol,
– T-shirts and zippers (hoodies) with a new design,
– cap & warm hats with band logo,
– coffee, tea, mug,
– drum lessons from Ilya, guitar lesson from Tom, a private concert for you,
– original art work used in album cover/booklet from Anastasia Kriger,
– special packages,
– various unique things that exist in a single copy!
You will find here merchandise on any level – from 5 euros to 1000 euros, you can choose what will be according to your financial possibilities.
If we do not reach our goal, we will shoot olny one of two clips. It`s important for us to create new art projects with your support, we do not want to waste time during worldwide pandemic and there is no opportunity to play shows – therefore every euro is important for us!

How can you help us?
If you don`t have opportunity to help us financially, we are always glad to any help and activity on your part! Become part of our team and we will be very grateful if you distribute this video across all your social networks, show it to your friends, parents and everyone who will be interested in our music and creativity.
Attention! Your support here is not a regular purchase! During a regular purchase, we usually already have a product and we just need to send it to you, if you invested on IndieGoGo and bought some kind of product – you need to wait until the end of the company, after which we will organize the production of the merchandise and only after that we will start sending out to backers.
Estimated time for delivery is set to May 2021. This will change when we see the result of this crowdfunding. Shipping prices are a little bit higher becouse post office rised prices from their services due coronavirus.